The Roland MC-202 MicroComposer is a Two Channel Digital Sequencer equipped with a monophonic synthesizer.

The innovative technology used to develop the MC-4 is used in the refinement of the MC-202.

Capable of storing up to 2600 notes of music in two channels, the MC-202 can reproduce approximately 160 measures in one channel.

Newly developed keyboard style switches are used to write pitch data or for real time writing just as if it were an ordinary keyboard.

The Step Key writing mode and Real Time writing with a built-in metronome are firsts for a digital sequencer and give the MC-202 the ability to write much more sophisticated music.

It is also possible to write with the numerical keyboard just like the MC-4.

A variety of performance commands can also be memorized by the MC-202 including, Portamento and Accent.

An LCD readout will display the remaining memory capacity as well as pitch, rhythm, and performance data.

The Power Save function cuts the power supply except for that necessary for memory protection. No saving and loading of data is required until the data is completed when the Power Save is used.

A Cassette Tape Interface is provided for nearly unlimited data storage on an ordinary tape recorder.

The built-in synthesizer has similar controls to the SH-101 and allows the user to hear with headphones the music as it is being composed.

When another 1 Volt/octave synthesizer like the SH-101 is connected to the MC-202, two channel performance is possible.
The MC-202 may also be loaded from the keyboard of the external synthesizer.

Three DIN jacks are provided for synchronized performance with an additional MC-202, or a Roland TR-606 Drumatix and Roland TB-303 Bassline.

The Tape Sync function enables the MC-202 to play a synchronized performance with previously recorded music.
The MC-202 is capable of producing a signal that is recorded on one track of the tape recorder The MC-202 can then read its signal and synchronize its performance to it.

The MC-202 is expandable in a wide variety of ways.
The CV and Gate outputs can be used for assigning one channel to control melody and control volume with the other channel when used in conjunction with synthesizers such as the Roland System 100M.

The MC-202 is small in size and light in weight. It easily slips into a briefcase or instrument case.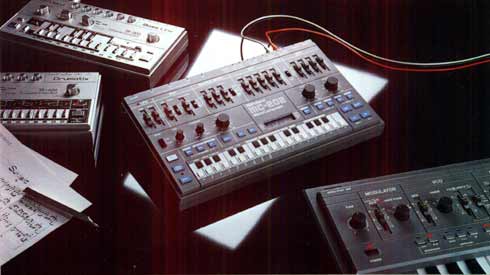 • Memory capacity: Approx. 2,600 notes o Input mode: Manual input, Real Time input, Tap input


• VCO: LFO modulation, Range (16' ~ 2'), Pulse Width Modulation (LFO, ENV) • Mixer: IL /1, SUB OSC (1oct.rU, 2oct.flJ,2oct. ILJ)

• VCF: Cut-off frequency, Resonance, ENV MOD, LFO MOD, Key follow (0 ~ 100%)

• VCA: ENV, Gate · ENV: Attack time (2 ms 1.5 s), Delay time (2 ms ^' 5 s), Sustain level (0 N 100%), Release time (2 ms N 5 s)

• LFO: Rate (0.2 Hz ~ 10 Hz). Delay (0 ~ is)

• Controls: Portamento, Accent • Tuning: ±50 cent • Tempo: J = 40 300

•Rear panel: AC adapter jack (PSA series), Out put, Phones, EXT SYNTH CV out, EXT SYNTH gate out, Built-in SYNTH CV out, Built-in SYNTH gate out, EXT KYBD CV in, EXT KYBD gate in, Load/tape SYNC in, Save/tape SYNC out, Calibration, SYNC out x 2, SYNC in

• Dimensions: 343 (W) x 55(H) x 204(D)mm (13.5" x 2.17' x 8.03")

• Weight: 1.35 kg (2.97 lb.)

• Accessories: Connection cord (PJ-1) x 1, Demonstration tape x 1, Battery (BR-2) x 6

•Option: SC-202 soft case