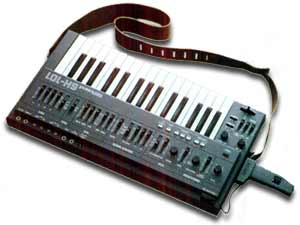 The Roland SH-101 Monophonic Synthesizer has brought sophisticated synthesizer features, mobility, and the excitement of color together in a cost effective durable package.

Impact molded high density plastic available in three colors, red, blue, and gray house a synthesizer with features that compare to models costing much more.

A built-in Digital Sequencer allows automatic playing of up to 100 steps. In addition to the sequencer, the SH-101 can play automated lines with its Arpeggio unit.

The Source Mix is capable of mixing VCO waveforms with Suboscillator and Noise Generator for sound creation beyond the scope of most monophonic synthesizers.

Key Transpose lets the user transpose to any key, so the range of performance is expanded. Octave Transpose can-shift the instrument's range one octave up or down.

In addition to the conventional Portamento, an Automatic Portamento is provided which operates only during legato passages.

There are CV/Gate Input/Output jacks and an External Clock Input to facilitate a wide variety of interface possibilities.

Two way power supply enables the SH-101 to go anywhere and the optional MGS-1 Modulation Grip gives the performing musician mobility on stage.



Keyboard: 32 keys (F-scale)

VCO: Range (16'/ 8'/4'/2'), Pulse width modulation (50% ~ min), PWM mode switch (ENV/MANUAL/LFO) Modulation depth control, Tune (±50 cents) o Source mixer: Level controls ELI, /1 , Sub-oscillator, Noise),

Sub-oscillator waveforms (1 oct dow'ni-LJ/2 oct down)-LJ/2 oct downlLJ)

VCF: Cut-off frequency (10 Hz ~ 20 kHz), Resonance (0 self-oscillation), ENV depth, MOD depth, Key follow (0~' 100%)

VCA: Control signal select switch (ENV/GATE) L) o ENV: Attack (1.5 ms ~ 4 s), Decay (2 ms ~ 10 s), Sustain (0 --100%), Release (2 ms 10 s), Gate trigger select switch (GATE + TRIG/GATE/LFO) o Modulator: LFO/CLK rate (0.1 Hz ~ 30 Hz) LFO/CLK rate indicator, Waveforms (quadra/random/noise) o Controller: Volume, Portamento (Time: 0 N 3 s, Mode switch: Auto/off/on), Octave transpose (L/M/H),

Bender sensitivity (VCO, VCF), LFO MOD depth, Bender lever (LFO MOD switch)

Sequencer (100 steps max): Buttons & indicators (Load, Play) Arpeggio: Buttons & indicators (UP, U & D, Down)

Others: Buttons & indicators (Hold, Key transpose), Switch (Power on/off), Indicator (Power)

Jacks: Output (0 dBm max), Headphones (Stereo 8 St N 150 S2), CV output (1 V/oct, 0.415 V N 5 V), Gate output (Off: 0 V, On: 12V),CV input (1 V/oct,0N7 V), Gate input (On at +2.5 V over), Hold, External clock input (Step at more than +2.5 V pulse), DC input (9 V --12 V), Modulation grip in

Power supply: DC 9 V (UM-2 x 6 or PSA series adapter)

Dimensions: 570(W) x 80(H) x 311(D) mm (22.4" x 3.15" x 12.2") - Weight: 4.1 kg (9.02 lb.) without batteries
Accessories: 2.5 m connection cord, BR-2 x 3

Options: PSA series AC adapter, BR-2 (UM 2 x 2) drycell batteries, PCS-4 (miniplug standard plug) cord, SC-101 soft case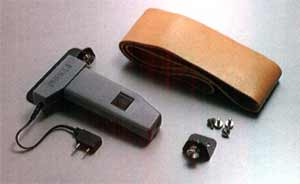 The MGS-1 allows the keyboardist have the same mobility on stage that guitarist and other instrumentalists have enjoyed. When the MGS-1 is used, the Bender and LFO functions can be controlled at a single touch.

The Bender is used in the same way a guitarist bends a string and only functions in the upward direction.The degree of pitch bend is controlled by the Bender Sensitivity switch.The Bender on the SH-101 can be used in conjunction with that of the MGS-1.

When the LFO button is pressed, LEO waveform modulation of the VCO and VCF occurs. This produces a choking and vibrato effect.